The appreciation of folk art as 'art' is just skin deep, says Gargi Gupta of DNA as she discusses the destruction of a Madhubani painter's mural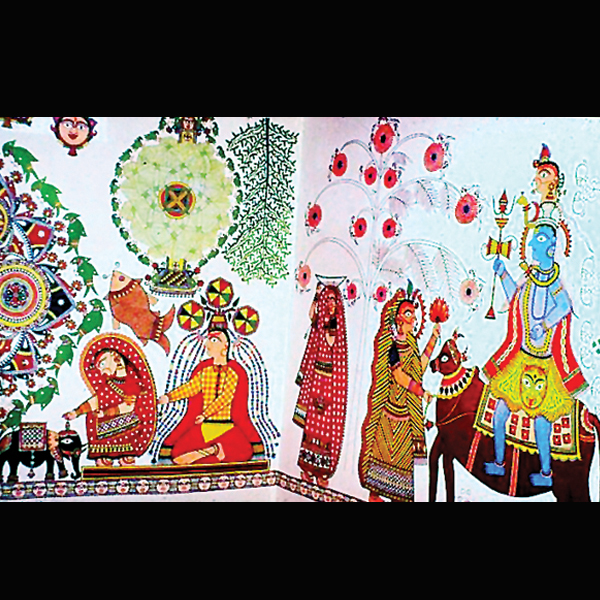 The recent destruction at Delhi's Crafts Museum of a large mural by Ganga Devi, a pioneering Madhubani painter, strikes at the root of the paradoxes surrounding tribal art today.
On the one hand is the lack of appreciation — the bureaucrats' disregard for a large, important work by an internationally-acclaimed artist, a Padma Shri awardee no less. Ganga Devi's mural was, according to Jyotindra Jain, the former Crafts Museum director, who first flagged its destruction on Facebook, "the only example of a complete iconographic rendering of Mithila's kohbar ghar". (Kohbar ghar is the nuptial chamber which would traditionally be covered with paintings depicting auspicious and fertility symbols. Madhubani paintings even now depict motifs ofkohbar ghar murals.)
Besides, its tragic history — it was one of the last works she executed while undergoing chemotherapy for cancer — added to its importance. According to Jain, "Ganga Devi used to weep due to the painful treatment and had painted the chamber to occupy herself with something she found creatively engaging." Undoubtedly, had it been a modernist master — Husain or Souza, for instance, instead of Ganga Devi — a work with such a poignant back story would never have been painted over in a thoughtless "modernisation" drive.
There has been a growing market for Madhubani and other forms of tribal art in recent years but it's mostly for small works, churned out in bulk by artists who've renounced the painstaking, traditional methods for modern, quicker methods so they can keep prices at the Rs1,000-2,000 levels.
Prices, even in auction (art auction house Saffronart has had a dedicated sale of folk and tribal art since 2012) where large works by senior, important artists come up for sale, have remained low, barring a few exceptions like Gond artist Jangarh Singh Shyam. At the recent Saffronart "folk and tribal art auction", for instance, a work by Baua Devi, an early exponent of Madhubani painting like Ganga Devi, sold for Rs 42,900, less than its estimated high price of Rs 45,000.
But over and above these, the Ganga Devi episode reveals the more fundamental paradox of Indian tribal art. Traditionally, these paintings were part of the artists' daily lives — they decorated their walls with them, re-touched them when they became faint and when they had completely worn out, the walls would be repainted and covered again with art.
This changed in the 1960s, when under the likes of arts administrator Pupul Jayakar, artists J. Swaminathan and Bhaskar Kulkarni, and American anthropologists Raymond Owens and David Szanton, those like Ganga Devi were persuaded to switch to paper. That gave their art-works longer shelf-life and mobility, and brought prosperity as well as new identity as artists.
But as the destruction of the Crafts Museum mural shows, the appreciation of our folk artheritage as "art" runs only skin deep — until the next renovation when the officials think nothing of destroying another lot of art-works instead of finding ways to preserve them.